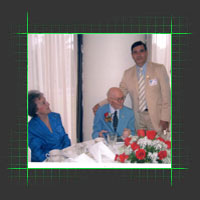 Since 2015 Adjunct Professor, Dept of ECE, University of New Mexico, City Albuquerque, New Mexico.
Since Oct. 1984 Consulting Scientist doing business as Pro-Tech.
Sept. 1984 - May 1989 Adjunct Professor at University of California, Berkeley Campus, in addition to being a Consulting Scientist.
Nov. 1978 - Sept. 1984 Vice President and Staff Scientist at LuTech, Inc., P.O. Box 20913, Oakland, CA 94620-0913
June 1982 - Feb. 1983 Visiting Scientist at the Indian Space Research Organization, Bangalore 560058, India. (On leave from LuTech, Inc.)
Nov. 1977 - Nov. 1978 Staff Scientist at Science Applications, Inc., Berkeley, CA 94701.
Aug. 1975 - Aug. 1977 Resident Research Associate of the National Research Council at the Air Force Research Laboratory, Kirtland AFB, NM, where I worked on electromagnetic boundary value problems and EMP studies using advanced techniques in applied mathematics.
Sept. 1969 - July 1975 Graduate studies at Harvard University and also worked as Teaching Fellow in the Division of Applied Sciences in undergraduate courses in electronics and graduate courses in electromagnetic theory and antennas.
As an undergraduate I worked as a trainee for a period of 8 weeks each at:

Motor Industries Co., Bangalore, India. Duties: fuel injection valves manufacturing,
Uttar Pradesh State Electricity Board, Dehra Dun, India. Duties: participated in the assembly stages of a hydroelectric power station,
Defense Electronics Research Labs, Hyderabad, India. Duties: design, development, and testing of a waveguide to coaxial adapter in X-band.

THESIS: Ph.D. Theoretical and experimental study of ferrite loaded loop antennas.